Hi there! Weekly chit-chat is where I tackle a woman's eccentricity, everyday insanity, aha moments, and of course her triumphs no matter how small or ginormous. It's like talking to your friend albeit virtually. So grab a cappuccino or frap, short or grande, and let's have real talk!
Chatting is easy; just click any photos or topic that interest you and you will be redirected to appropriate posts.
March 2014
Staying Positive in a Negative World
Slowing Down
February 2014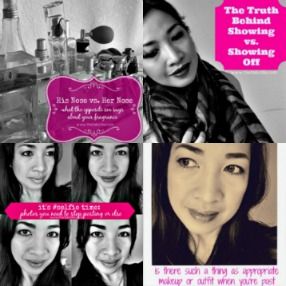 His Nose vs. Her Nose: What The Opposite Sex Says About Your Fragrance
The Truth Behind Showing vs. Showing Off
It's #Selfie Time: Photos You Need To Stop Posting Or Else
Is There Such A Thing As Appropriate Makeup Or Outfit When You're Past Your Prime?
January 2014
5 Ways To Spring-Clean Your Life
That Thing Called Lippy Phenomenon
Weird Tricks Women Make When They Apply Makeup