:: affiliate ::
When it comes to season makeup trend, Fall is my absolute favorite. Dark, mysterious, smoky, there is something sexy in autumnal air. Today I'm sharing my own take on jewel-tone eyes, as inspired by Anna Sui Fall 2014 runway show. Kindly scroll down for step-by-step tutorial and list of products used.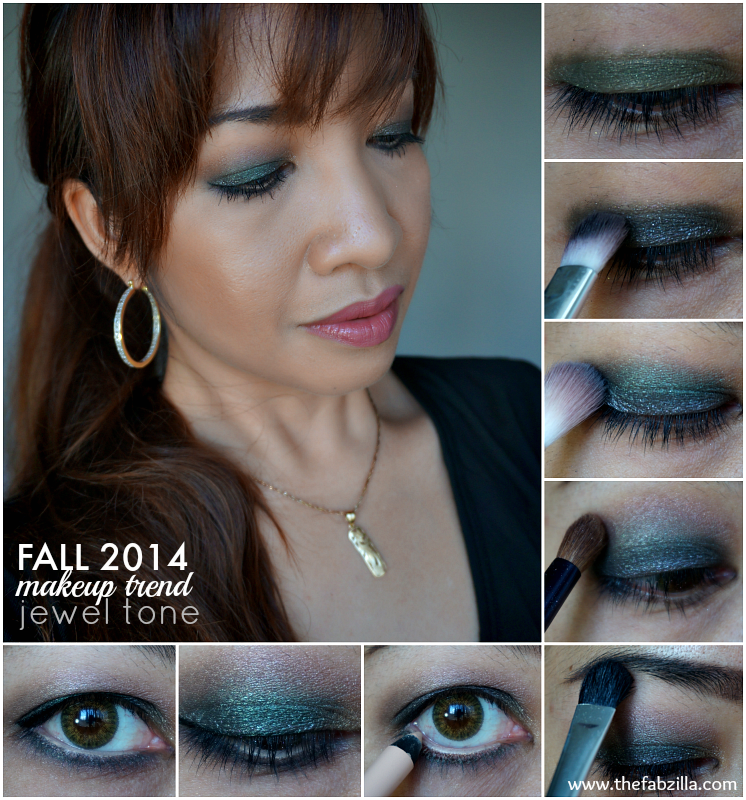 1. Apply eye primer. I used NARS Pro-Prime Smudge Proof Eyeshadow Base.
2. Optional but I highly encourage, apply dark green cream as base for eyelids as it will help intensify the eyeshadow more. I used Givenchy Ombre Couture Cream Eyeshadow in Kaki Brocart.
3. Lightly pat metallic gray on eyelids. I used the eyeshadow from Givenchy Fall 2014 Extravagancia Palette.
4. Apply and blend metallic emerald green eyeshadow on crease. I used Damaged from Urban Decay Vice 2.
5. To add dimension, overlap metallic copper on crease. I used Toxic from Urban Decay Vice 2.
6. Apply matte flesh eyeshadow on brow bone. I used Habit from Urban Decay Vice 2.
7. To make eyes bigger, line waterline with flesh-colored eyeliner. I used Rimmel Scandaleyes Nude
8. Line upper lash line with black liquid liner. I used Kat Von D Tattoo Liner in Trooper.
9. Smudge metallic green eyeliner on lower lash line. I used Marc Jacobs Highliner Gel Eye Crayon in (O)vert.
10. Apply mascara (or false lashes). I used Milani Total Lash Cover.

Other products used (reviews are linked):
Face: Guerlain Aqua Serum BB Hydra+ (Moyen/Medium), Hourglass Ambient Lighting Powder (Diffused Light), NARS Radiant Creamy Concealer (Custard), Givenchy Terre Exotique

Eyebrows: Anastasia Dipbrow Pomade (Dark Brown)
Lips: MAC Lip Pencil (Soar), Giorgio Armani Rouge d'Armani Sheers 503


What makeup trend are you interested in trying for Fall?
Kathryne