[PR Sample]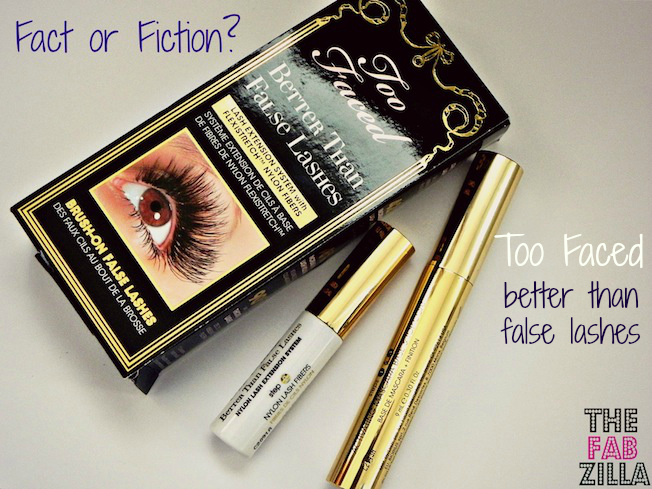 Truth in advertising. Don't you think it's high time to enforce stricter rules in cosmetics advertising? Seriously, I'm sick of these ads that feature lashes that grow in tarantula proportion. Like c'mon, who else buys this fallacy? Certainly not moi.
To experience is to believe. Planet Beauty, a privately- owned upscale beauty boutique with several branches in California (oh, they also sell online!) sent me this Too Faced Lash Extension System that claims to be Better Than False Lashes. I'm a Thomas, I have to experience to believe.
So how is this different from other mascaras that come with a primer?
It's the nylon fiber baby! Packaging says "exclusive Flexistretch nylon fibers melt into the activating mascara to stretch and hold their shape, achieving the most outrageous, flirtiest lashes possible in 3 simple steps". Ophthalmologist-tested; Suitable for contact lens wearers. Perfecto! That was my main concern as I wear contacts in case you don't know yet.
Now how easy (or difficult) is it to achieve those false lashes effect then? Let me count the ways….
lifeless and boring lashes in their most natural state
curled
Step 1: Left side primed with Too Faced Activating Mascara
Right side: untouched!
You can already tell the difference right? Left side has darker lashes, obviously from the black mascara.
Step 2: Left side with 2 coats of nylon fiber.
Right side: le' boring lashes!
Thankfully, none of these nylon fibers got stuck in my eyes. They adhered immediately onto my primed lashes.
Step 3: Left side sealed with Activating Mascara
Pictures speak a thousand words.
Fact: This lash system gave my lifeless lashes the volume and length they so deserve. I like that it didn't irritate my eyes. It didn't smudge or budge the whole time I was wearing it (way past nine hours). I lurve it!
Fiction: No way this system will yield voluminous lashes without false lashes and photoshop.
Too Faced Better Than False Lashes packaging
If you haven't found THE mascara to end your lash dilemma yet, Too Faced Better Than False Lashes is worth trying. Eyelashes (mine, not the model's) don't lie.
Where to buy? Planet Beauty, Too Faced, Sephora, Ulta, etc.
How much? $35
Have you tried this brand?
Kathryne
* product sent for feature consideration; links for reference only*