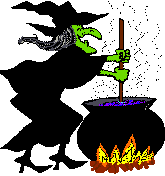 The potion's almost ready my dear. But before I cast the spell, I want to say something about this witch that brings more goodness than vileness. Meet my buddy Witch Hazel.
I said it before and I'll say it again ~ if there's one thing to brag about having oily skin, that would be delayed wrinkles. But other than that, I couldn't think of anything more. Acne, blackheads, open pores, name it, I had it. There's benzoyl peroxide, salicylic acid, retinol, adapalene, etc., name it, I tried it. Even this witch named hazel.
Witch hazel is a shrub found mostly in North America. Its bark and twigs are high in tannins which makes it a good astringent. It also causes the skin to contract slightly which in turn minimizes the size of the pores tentatively. Yeah, tentative because you have to remember that open pores are mainly hereditary. I was in the front row when heaven showered pores and grease, sigh! Another thing to note, shine exaggerates pores. Witch hazel removes excess shine, so that explains why pores look smaller upon using this. Other uses of witch hazel include (1) helps relieve itching (2) reduces swelling from insect bites (3) helps heal minor cuts and sunburn. I hate to break the news though, while it works for mild acne, witch hazel alone can't address the severe types.
One great thing about witch hazel is its accessibility and price. It's sold in most drugstores and they're pretty affordable. Some brands I have tried are Dickinson's and Thayers (rose petal). In fact, I use these two to make my own brush cleaner…
That's witch hazel for you. Shall I leave now? I have to visit my witch sisters, bye!