A HauteLook exclusive, LORAC Femme Fatale was on flash sale not too long ago – I think few days prior to Fashion Week. Oh well, that's what I remember. At $14 (advertised as $37), you bet I salivated. T'was early in the morning, I haven't had coffee yet, clicked add to cart, and checked out half-asleep. Nice.
So when it arrived, I was surprised that I purchased another neutral palette! Pinch moi. So what's fatalistic with Femme Fatale? Let's see.
It boasts of 10 neutral shades, 4 mattes and 6 shimmers that flatter every skin tone (I did not invent this, I copied it from the box); packaged in faux snakeskin with free eyeshadow brush for easy application; versatile palette that takes you from day to night.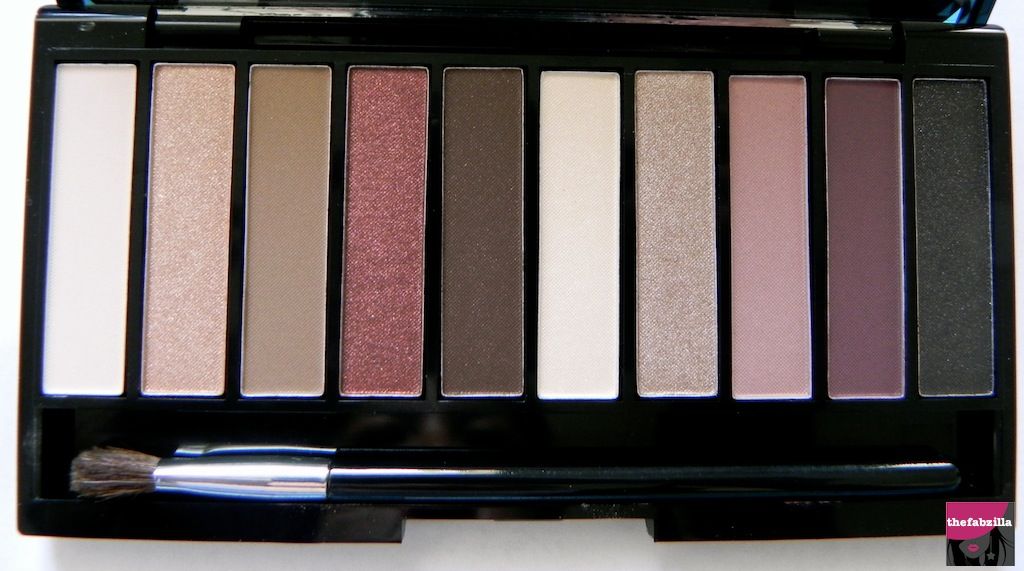 Perfection, that was my initial impression. Some of the shades even resemble Urban Decay Naked Palette 1. From the pan, yes. Actual swatch and use, not at all.
Ooops, somebody from the marketing department got lazy to name the shades so let's just call them 1 to 10. Very creative.
Let's cut to the chase. LORAC Femme Fatale is made for women who are drawn to subtle, moderately-pigmented, and barely-there-but-it-really-is-there eye makeup. The swatches above were done with a heavy hand. In my color vernac, I'd call them wimp. Weak, especially when compared to ultra-pigmented Urban Decay Naked Palette. # 3 is similar to Naked (matte brown); # 2 is somewhat Sin; # 1 is close to Virgin; #10 is wanna-be Creep. But yeah, all in a lesser intensity. Truth be told.
Wearing it is another story. While I didn't notice any smudging or fading throughout the day, thanks partly to Kat Von D's eye primer, I needed to reapply, blend, buff, reapply for a few times to achieve my desired look. Like I mentioned, it's delicate and quiet. Or maybe I'm just more inclined to bright and uber- pigmented shades.
Wearing #s 1-5.
#1 for brow bone; # 2 for lids; # 3 for crease;
#4 for outer "v"; #5 lower lash line
That intense eyeliner was INGLOT Matte 77
Wearing #s 6-10
#6 for brow bone; #2 for lids; #3 for crease
#4 for outer"v"; #5 for lower and upper lash line
So in case this palette comes out again, buy only if you are starting to like makeups and would like to try neutral shades; skip if you have Naked Palette, nude' tude or other similar palettes in your possession. The only femme fatale I can deduce from this product is its faux snakeskin packaging (kind of fierce-looking 'zilla!).
And one last note, never buy online half-awake. It's more toxic than somnambulism a.k.a sleep-walking.
xo,
* HauteLook is a members-only exclusive sale. Membership is free, here's my invite. Clicking this will give me credits, and when you invite your friends, you'll get credits too. I believe that's how it works. I invited my LeHub and up to know he hasn't clicked yet, boo! *