I get excited when "ber" month hits, it's the merriest season! There's Halloween, Thanksgiving and of course Christmas. Just last week, we hauled some nice halloween decors from Target, in particular a life- size skeleton we will call Django….
Django sitting comfy.
He looked eerie at night so we moved him 'outta there.


Halloween is not complete without candies. Top of mind? Candy corn! We were planning to save all the candies for trick or treaters but the restless adults can't control their horrendous candy pangs.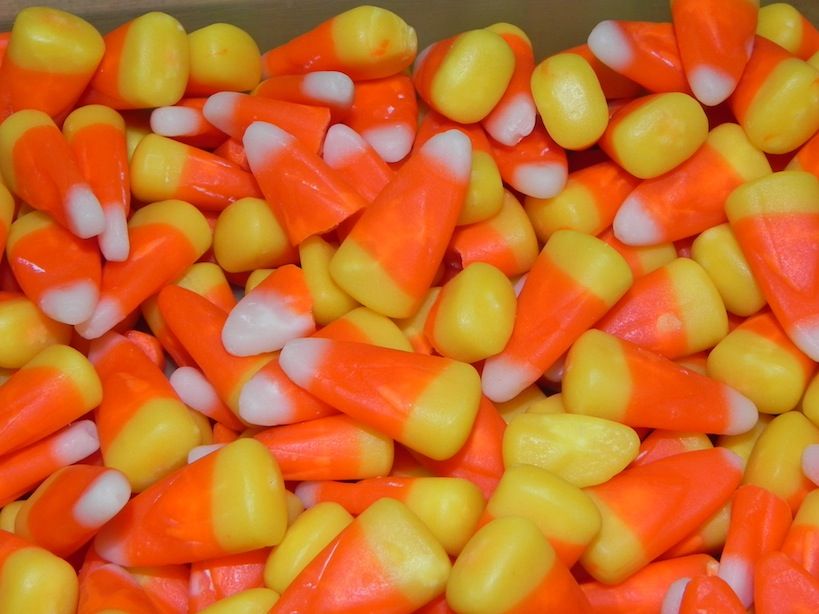 Wearable Makeup
inspired by
Candy Corn
Wearable is self-explanatory ~ it isn't theatrical but simply a makeup look that you can wear to the office. Bright meets Conservative, if I have to reword it. The key is balance, when you focus on the eyes, keep the rest neutral.
Get the look ~>
Prime the eyes as usual. This will make the eyeshadows appear more vibrant; it also prevents smudging
With a flat brush, pat yellow eyeshadow all over the lid
With a crease bush, blend and buff orange eyeshadow from outer corner going mid- way towards the crease
With the same crease brush, transition orange eyeshadow to bronzey-gold eyeshadow from mid- crease going to inner eye corner
With a small smudge brush, use the same bronzey-gold eyeshadow for lower lash line
Create a subtle cat eye by using black eyeshadow instead of liquid or cream eyeliner
Apply two coats of mascara
Use coral blush but apply light-handedly
Finish with nude lipstick or gloss.
Products used:
Kat Von D Eye Primer
e.l.f 100 palette for all eyeshadows
e.l.f contouring blush and bronzing powder for cheeks
e.l.f mineral lipstick (bare brown) e.l.f. lip gloss
Tarte amazonian clay foundation
pur minerals pressed powder
skinn cosmetics mascara
So what's next? candy corn nails? let's see!
xo,

');