If the brand name FutureDerm rings a bell, then you know that this breakthrough retinol is the baby of award-winning beauty blogger and dermatologist-in-the-making Nicki Zevola. I had the opportunity to try this product and after a month of diligent use, I am ready to share my thoughts with you.
Excited but hesitant. Truth is, I'm not new to retinol. Having worked for a dermatology company in the past (yes, I'm that woman who injects marketing claim to make consumers believe that product X is the manna from heaven), I am fully aware that some retinol can be downright nasty, peeling-wise. That generic retinol I tried eons back made my face peel like cobra, no pun intended. So when Nicki replied that her version of retinol is lightweight and ideal for all skin types, I bit the bullet. I'm two years away from the big 4-0 so I'll do anything to delay those dreaded wrinkles, come hell or high water!

To some of you who are unfamiliar with retinol and its use, it is the gold standard of anti-aging. Ask any dermatologist and she/he would probably agree. Retinol is as ubiquitous as the golden arch, a.k.a McD, you see it anywhere you go – drugstores, department stores, doctor's office, vitamin shops, etc. I am 100% sure that you've seen and heard it at some point. So without sounding like your abhorred chemistry professor, retinol is a form of Vitamin A. When converted to retinoic acid, it does wonders to your skin such as (1) promoting firm skin by preventing collagen loss (2) increasing cellular turnover thus delaying signs of wrinkles (3) acting as antioxidant by counteracting future damage to skin. Aside from wrinkle prevention, retinol can also alleviate mild to moderate-type acne and reduce age spots.
Ingredients
So what sets this apart from other retinol brands then? FutureDerm 0.5% has micro-encapsulated retinol that allows a slower release time, which in turn minimizes irritation. Now that explains why I didn't peel as much (I was prepared for the worst, mind you). In fact, my peeling was only noticeable up close which was remedied with a moisturizer (we'll go to my routine later). But here's my face on the exact 4th day when I spotted peeling on my nose and cheek.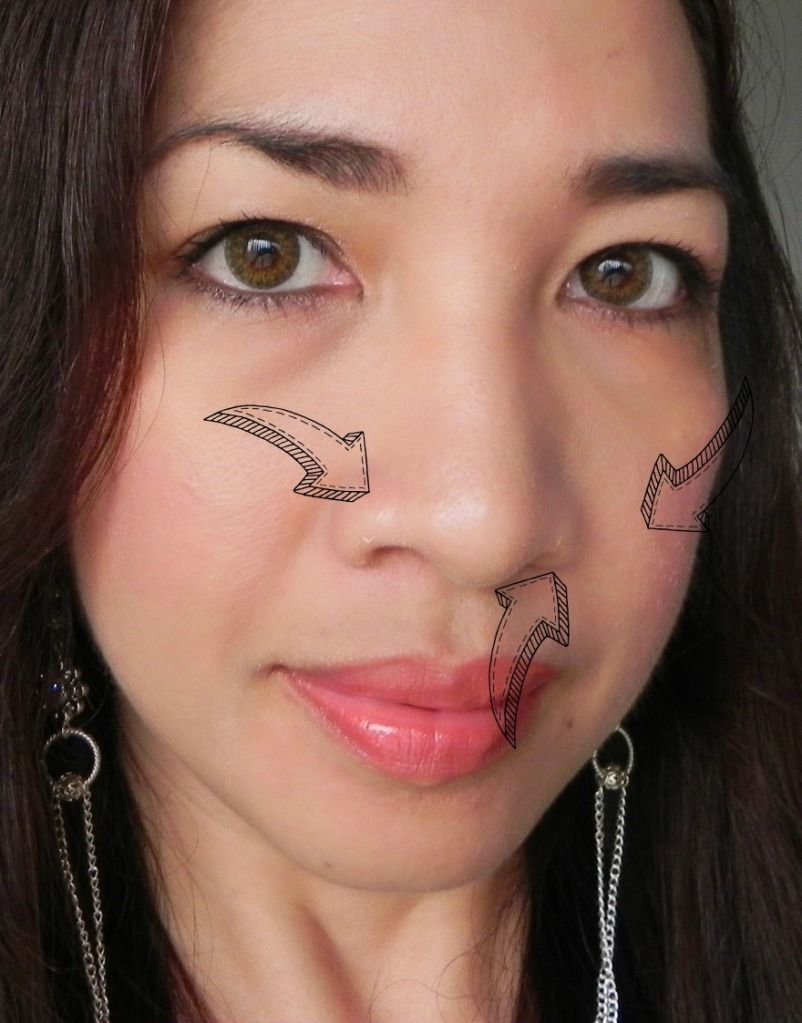 Excuse the humongous face occupying your screen right now,
I just want you to see the extent of my peeling experience.
Also, peeling was more obvious when I was wearing a foundation.
I peeled on the 4th-7th day, and that's about it.
Caveat: By now, you should know that our skin reacts differently to products.
Product description. Futurederm Time Release Retinol 0.5% comes in a white plastic pump bottle (1.oz/ 28.3g) and costs $54.95 (futurederm.com), a little pricey compared to its drugstore counterparts. But it's a specialized product so I won't even dwell on that. It looks like a cream but it is actually a lightweight gel that is absorbed into the skin easily. It's fragrance-free and isn't greasy at all.
How to use. Apply a pea-sized amount (pump the bottle slowly to deliver a precise amount) to a well-cleansed face. Don't apply near the eye area. If you are new to retinol, start by limiting to twice a week, gradually increasing to every night, and once nightly as you become more used to it. Since my face has been subjected many times over to various product experimentation, I used this retinol for 30 straight nights. For reference, my night time skincare routine is like this ~> Wash face, Tone, Apply Futurederm (let it soak for a minute), Moisturize. Add the lip balm, body cream, and fragrance mist and this woman is off to dreamland. And before I even snooze (for real), wear sunscreen in the morning or when going out as retinol makes you susceptible to sunburn; stop using if you experience severe irritation.
The results are in. After 30 nights of religious use, my skin looks firmer; I had fewer whiteheads; Other than minor peeling, I didn't experience any severe irritation or redness. Just the other day, a friend asked me what I was using because my face looks "uplifted and tight", to borrow her words. Of course, I mentioned this retinol and where she can buy it.
Now that the experiment is over, will I continue to use it? Absolutely. This product changed my not-so-good perception on retinol. So let me say this loud and clear ~ Wrinkles, I'll see you in twenty years & by that time, I am ready to embrace you!
Where to buy? futurederm.com
Facebook Twitter
xo,
*Product sent for review. Links for reference only. If you promise to stay with me in the next 20 years (or more), we shall see the long-term effects of retinol. Let's grow old fabulous 'zillas !!!!*